The Daintree Ferry will be closed from the 28th of February until the 4th of March 2018 to complete mandatory maintenance. Douglas Shire Council has scheduled the maintenance of the ferry during this time due to high tides that will assist in dry-docking the vessel.
In order to minimise disruptions to local businesses and travellers during this period a 50-seat passenger ferry will be available FREE of charge. This ferry will operate between 6am and 6:30pm every day and will work in conjunction with a free shuttle bus both north and south of the river.
North side: two shuttle buses will operate between the river and car parking zones in place in Forest Creek and Cow Bay. First pick up from Cow Bay will be 5:30am and last pick up 5:45pm. No cars will be permitted to park on northern bank of the river to avoid congestion.
South side: two shuttle buses will operate between the Daintree River and Mossman. There will be two stops in Mossman—one outside Mossman Primary School and one at Woolworths. First pick up from Mossman will be 5:30am and last pick up will be 5:45pm.
Updates will also be available on Council's Facebook page.
Council will provide security for vehicles parked overnight in the designated areas. Cape Tribulation Road will be closed to traffic from Forest Creek Road to the boat ramp with the exception of shuttle buses, school buses and vehicles carrying tour groups who have registered with Council.
North Side Vehicle Parking
This will be at the SES Shed in Forest Creek. It is located approximately 1.5 kilometres along Forest Creek Road on the left hand side. It is the very first driveway opposite Ronald Road.
The second parking area is at the Cow Bay Hotel.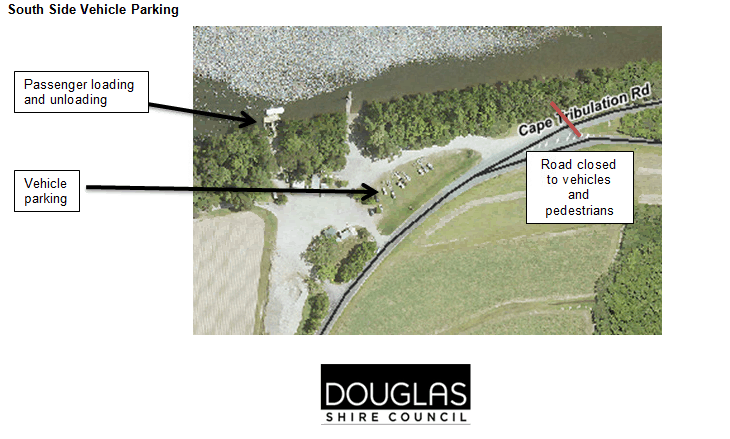 If you are scheduled to visit Cape Tribulation during this period and require more information please contact Gaye Scott from Douglas Shire Council at: gaye.scott@douglas.qld.gov.au or call her on 4099 9414.